Vung Tau kite festival – best kitespot Asia
During our first stay in Vung Tau, the kitebeach closer to Ho Chi Minh city where we were enjoying the best waves and wind conditions of all our kite trip, we were happy to witness an interesting event in where kites were the stars of the show. Vung Tau kite festival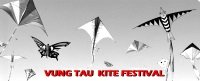 A Sunday in January began the KITE FESTIVAL of Vung tau, it was something really new for us, foreigners because we were carrying our kite stuff to the other side of the globe but we were completely unaware of the kite tradition that in Vietnam existed.
The few photos we are uploading don't do much justice to what really happened, but they can give an idea, at least, of the visual part of the event …
As said before, the visual part was worth to be seen but the auditive part of the event was also memorable.
Impossible to forget, because among the many kites of all colours, types, sizes and motives, some of them were audible, especially the bird type of kites because they carried on top of their backs the auditive effect incorporated, as you can see in some photos.
How to explain what was it? … because one of these particular type of kites, due to the different cuts of bamboo canes starting from bigger and on top of it smaller cuts, up to 3 to 5 bamboo canes made the kite sound a sort of churchlike effect, the same as if somebody were testing the organ of the church in a day of great celebration.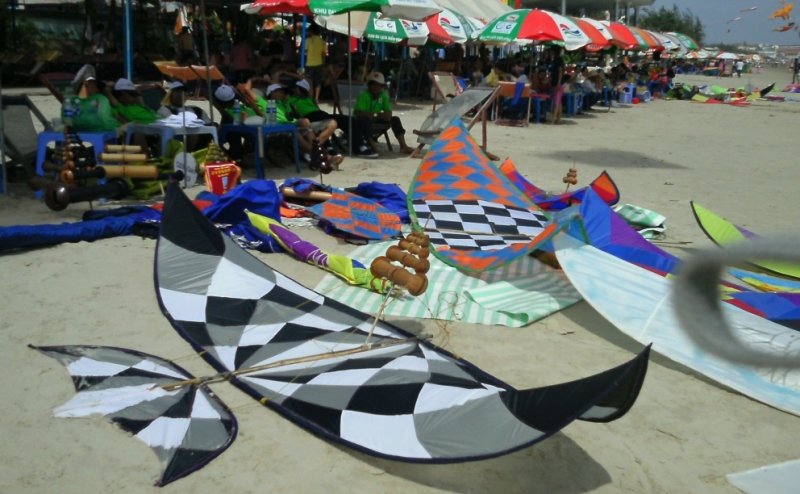 Imagine the wind entering through the slots of the mini organs that the kites carried over them, and I am refering in total about 80 or more kites, of which at least 30 were musical ones …
The sensation, besides the peace they created to see all those "birds flying, was of even more solemnity, on account of the many sounds which filled the air in different tones, some sort of magic indeed.
And one last photo of the Vung Tau kite festival with my super Flysurfer 12 mts Speed 3 flysurfer deluxe edition joining the crowd of kites in perfect brotherhood with all the other friends
Vung Tau kite festival – best kitespot Asia

Do you want to learn kitesurfing in Vietnam?
Book your course at the best price

To contact the school click here