Learn kitesurfing in Vietnam – Winter in Vung Tau
If you are traveling to Asia in winter and ever thought about giving a try to learn kitesurfing, there are quite good reasons to do it in Vietnam.
Winter in South Vietnam – Vung Tau city.  Starting from mid-end of October and until mid March, climate is mild, no rain, not much humidity, gentle breezes and sunny days.

VUNG TAU KITESURFING IN WINTER
This link will lead you to more information about our school of Kitesurf in Vietnam in winter CLICK HERE
   Every year  at the end of the tourist season, coinciding with autumn and winter months, many birds begin their journey -migration- towards warmer places …  Kitesurfers in Mallorca, by instance,  also follow this ancestral tradition

KITESURFING IN ASIA
This time our winter trip destination was Southeast Asia, we were  bounded to Vietnam and the lovely city of Vung Tau
If you are considering a trip to a tropical destination for your kitesurfing winter holidays, why not visit the beach city of Vung Tau, located on the southeast coast of Vietnam.
Vung Tau is famous for being a seaside resort. The road transfer from Ho Chi Minh City takes about two hours, but you can make the trip also by motorboat.
There are two main beaches; Back Beach (Bãi Sau) is easily accessible and is located in the back part of the city and facing the other side of Vung Tau, the city center it is Front Beach (Bãi Tru).
The first one is bigger, more beautiful and particularly interesting for those who like surfing, windsurfing and kitesurfing.
There is plenty of accommodation in Vung Tau; some, the sort of local style and really very affordable, others are superior, also with many luxurious suites or individual villas offering exceptional views.
If you are looking for a relaxing break or if you are looking for a great kitesurfing destination, whether to learn or to practice, there are many reasons to choose Vung Tau.
The city it's located not far from the city of Ho Chi Minh and there are several easy ways to reach Vung Tau also from Saigon airport .
Once you are lodged and want to discover the city, among other things, you can enjoy panoramic views from the 3 hill views, you can visite the many restaurants specialized in sea food.
The various shopping malls of the city and also enjoy a long beach where the waves break gently and where pleasant breezes offer the possibility of learning and practicing kitesurfing.
OUR KITE BEACH AND KITESPOT
Vung Tau has a wide beach of 14 kilometers and at its left end the beach coincides with a river mouth which creates some sand banks and perfect flat water kite spots.
It is in this area where were taken the following videos that we present below.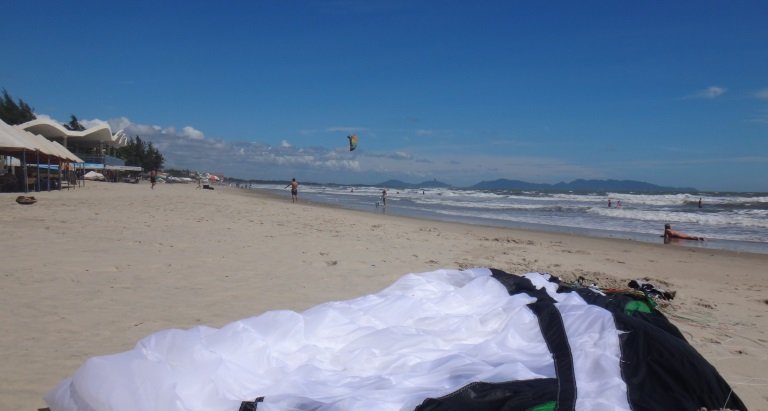 Climatological conditions:
Temperature in Winter 29 degrees Celsius
Wind force, usually 18 knots
This link will bring you to our Kitesurf website Vietnam CLICK HERE
This link will lead you to our Facebook page – Click here
The kitesurfing equipment used during this kite surfing entry to our blog is a kite board kite split model, the kiteboard was  a Flysurfer of 134×41 centimeters and the kite was a  Race model Sonic FR 11 mts, all of it of the german brand Flysurfer.
LEARN KITESURF IN VIETNAM – WINTER IN VUNG TAU

Do you want to learn kitesurfing in Vietnam?
Book your course at the best price

To contact the school click here