How to chose your kiteschool
The basis of learning kitesurfing depends largely on the right choice of several important facts. So let's see why … CHOOSE A KITESURFING SCHOOL IN VIETNAM?
As most of us work all year, it's possible to assume that some will take the chance to have their vacation in a tropical destination away from the cold and stress, to take their kitesurfing lessons and discover a new kitesport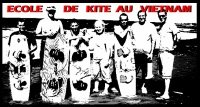 This are the fundamental reasons to choose Vietnam – Vung Tau, to learn kitesurfing.
KITESURFING LESSONS IN VIETNAM
In the following lines, we will talk about the most common mistakes when a person has to choose his kitesurfing school.
A.- Light wind creates the ideal conditions for learning kitesurfing
Pretending to learn kitesurfing on a windy beach is a waste of time and money
In light wind, your kite will react in a way that will allow you to control it because you are sending the correct instructions through the kitebar
On a windy beach, your kite will respond to your commands on the kitebar so quickly and abruptly that you will have no chance to control it.
This which will cause you frustration and will create dangerous situations for you or anyone in the area.
B.-  A shallow flat water is a great help
Shallow and flat water is the desired scenario to learn kitesurfing.
Waves, rough waters, deep waters and a big shore break will make learning kitesurf an almost impossible task.
Before choosing your kite school, you should check the water conditions on the beach where the kite courses are given.
C.-  An area free of sunbathers or swimmers
It is not recommended to receive kite lessons, courses or even to practice kitesurfing in populated areas.
A beach where people suntan or swimmers enjoy swimming is contrary to common sense. Do not fly a kite there!
A kite, through mishandling can switch from a friendly flying toy to a dangerous and uncontrolled weapon
Other important considerations when you
choose your kite school and location
D.-  Cost of living is very affordable
It is a question that has different interpretations.
You can afford to pay a kite vacation in which you want luxury accommodation, you travel in Business or First Class and you are not concerned about the cost of what you buy?
Or maybe your kite vacation is the time in which you are fulfilling a profound desire: the gift after working all year and having saved the amount necessary to make it possible
In any case, Vung Tau is a very affordable kitesurfing destination in which you can choose between an excellent suite or a villa or a nice room for a tenth of what you will pay in your country.
Keeping in mind that the money you have spared by choosing your destination, you may be able to buy your kite gear later when you will be back in your country
E.-  Locals are very friendly and there are many
interesting possibilities to spend your "after beach" time 
Is it good enough for you to stay in a place where all you will see for the next two weeks is a road, a line of coconut palms, some hotels and restaurants scattered along the road it's all you'll find?

Don't you prefer, you, or your girlfriend / wife / family,  the chances that a relaxed laid back little town with its avenues, beach boulevards, shopping malls and dozens of bars, restaurants and nightclubs will offer you to make your time "after beach " much more enjoyable?
COST OF KITESURFING LESSONS
The full 9-hour course can usually be done in 2 or 3 days of practice. The price of the full course kitesurfing is 300 euros.
The price of the kitesurfing lessons of a day of 3 hours, is 120 euros.
CONTACT
Whatsapp / Viber contact  +84 797392871
Please, contact us between 9:30 am and 11:30 am, or after 9 pm.
If there is no response, leave a WhatsApp – Viber-Zalo msg
Email of the school: kitesurfinglessonsvietnam@gmail.com
INTERESTING LINKS ABOUT SOME IMPORTANT DETAILS
DURING OUR KITESURF LEARNING
Interesting information about the different entries of our Vietnam kiteblog
Visit our kiteblog page and check out the latest news and reports
FOLLOW THE LINK UNDER AND GET MORE INFORMATION ON
OUR ENTRIES TO OUR PAGE IN FACEBOOK
Visit our Facebook page
Visit our page of our school in Mallorca -Spain


Do you want to learn kitesurfing in Vietnam?
Book your course at the best price

To contact the school click here