Important things for kitesurfing safely
Once you have finished your kite course, we adjoining on this post of our kite blog, some basic but important points to consider once you have learn your first rides and you are in position to kitesurf on your own
1 .- Do not sail alone, whenever possible
2 .- Inspect your kitesurfing equipment, bridles, worn lines, depower rope in good condition, chicken loop should work properly
3 .- Make sure that bladders of your kite do not lose air and the kite fabric it's in good condition
4 .- If your kite it's a foil type, pay special attention, everything should be perfectly connected and without entanglements
5 .- Be aware of potential weather changes and be sure of where your navigation can end if something goes wrong
6 .- Use the kite size according to the wind force, if you see that wind rises, return immediately
7 .- Know always your limit. If in doubt, do not go kitesurfing
8 .- Before going kitesurfing, everything should be clear, otherwise, there can be very complicated situations, which must be avoided
9 .- Keep your energy, do not ride further than you can swim, if you feel tired, return to earth.
10 .- In case of a storm, preferably, don't kitesurf. Even in normal wind conditions we must always take precautions to the maximum.
11 .- The strongest and most dangerous winds should preferably be avoided
12 .- The best time to kitesurf in Vung Tau – Vietnam is during the months of October until April, which is the dry season.
It is possible also during the months May to end of September but due to the rain season, lessons are only during morning time as from 14h on, generally it can rain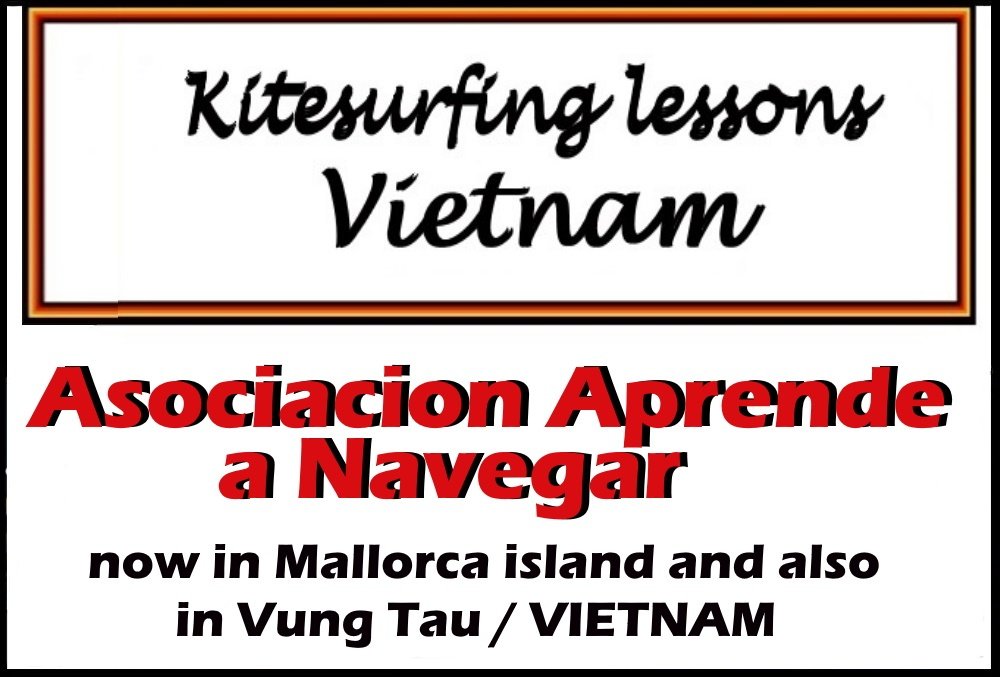 An example of how fast can be your progression
Joseph, a new kiter to the world directly from our Asociacion Aprende a Navegar kite school
Jose, our new kiter student, ended his kitesurfing lessons with our school
He took a 3 days kite course but due to his skills and easy learning,
during his 6 hour of kite training, Joseph started with the first water start
This photos show his evident progression in kitesurfing and how he managed to ride his first hundreds of meters
First, towards his right and then, towards the left, over passing the starting point and later returning to the starting point without any problem
The equipment he used for his kitesurfing ride: a kite Flysurfer Peak of 9 mts and a light wind board 170×50 XL model of Flysurfer