Best kitesurfing spots in Vietnam
Under the blog entry of: Best kitesurfing spots in Vietnam, we want to refer to the main question which arrives in mind when it comes to chose your kite destination in Vietnam.

   Any kitesurfing practitioner or any "wanna be kiter" who wants to learn our sport, when planning to travel to Vietnam, wants to know where to go, how is it there and, after all, choose the best kitesurfing destination.
Then: Where to go? which are the best kite spots of Vietnam?   In fact, there are only few answers to that question.
It shouldn't be because there aren't more answers, because there are. But this is because those who travel to Vietnam, whether to learn kitesurfing or to practice it, are absorbed almost magnetically by two words: Mui ne
Is there any kitesurfing in Vietnam  besides Mui ne?  … Definitely!
However, once there, in Mui ne, some will have the time of their life.  Plenty kitesurfing action, party at night and lots and lots of people to meet and talk about … kitesurfing, of course.
But there will be some people that will quickly understand that this is not exactly what they expected.  Is it Mui ne a good choice after all?
It's okay and it worths to go to Mui ne?  Well, the opinions on this issue are diverse, some say yes and some will say the opposite. I guess that must depend on to who you ask, logically.
Mui ne is a small Vietnamese village, friendly people, fishermen mostly, others who make their living thanks to tourism.
The place counts with a few basic activities and the social life of the place resumes around bars, restaurants, hotels and pensions and a discotheque, all of them can be found along a road that is the main artery of the town, plus few more streets.
Mui ne beach, is mostly narrow and its shore is sort of a slope type, meaning that in high tide there is very little beach and at low tide just a little more space but it is not a big beach, to the width at least.  According to its length it is much larger.
The bad part is not the beach in fact, though not much  beach space means it's going to inevitably cause large numbers of people and kites to share its area scattered around, mostly everywhere.
No, it seems that the bad part about Mui ne beach are the waves which breaks on the shore, because are actually devastating.  The rough water that the slope of the beach in its shore creates it is not fun, and the bad part does not end there, as this produce an unfriendly chop which is anything but unpleasant to ride.
Add to this the agglomeration of apprentices, monitors and kitesurfers mentioned above, and the result, sadly, can be a real nuisance.
Kiteforum opinions about Mui ne
This is what happens when a place becomes too popular, fashionable, everyone likes to go there and try kitesurfing. and that means crowds in the water which in the opinion of many, it is not fun at all.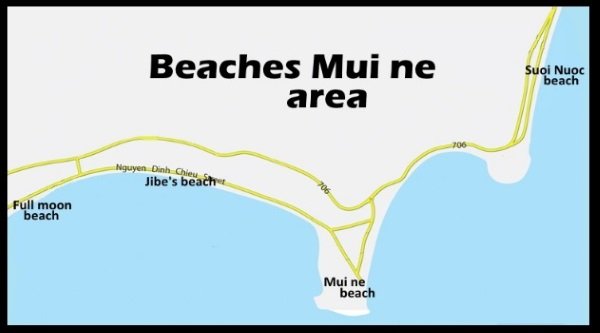 Other kite-spots
At some distance from Mui ne beach – but always needing a vehicle – you can find other spots, some offering waves, others flat water but except if we do a downwind kitesurfing, you will always need a vehicle.
http://www.muchoviento.com/destinos/vietnam/mui-ne/kitesurf/
That's another issue.  In Vietnam you can not rent a car, only if you have a Vietnamese driver's license, which no one has except Vietnamese people, of course, therefore, you will need a taxi or rent a motorcycle, but in that case it may be necessary to do 30 kms by road in which the cars and trucks are going to overtake you as if you do not exist, which ends again not being a good idea.
The next kite spot you'll hear about is Phan Rang but that's quite far from Mui ne, in fact 125 kilometers or by Vietnamese standars 2 and half hours drive.
About 130 km or almost 3 hours ride. The spot it's offering a lot more flat and friendly water than Mui ne, and some more knots of wind also.
I could extend myself explaining about the spot but in the next link you will find all the information available
info and different webpages about Phan Rang
And henceforth there are no records on internet that nobody has kitesurfed anywhere else around that area, which it's certainly not true, since there are always those who venture and go to places of which nobody has heard or kitesurf there, and logically, almost nobody realizes that this or that other place where you can learn or practice kitesurfing exists.
Phu Quy island
Other known kite spot of Vietnam is Phu Quy island, which is 120 kms in front of the coasts of Mui ne – Phan Thiet.  Reachable by boat, during a trip from 4 to 6 hours depending if you take the fast boat or the slow one.
Phu Quy Island is a really windy kitespot, when winds in Mui Ne and Phan Rang are not so reliable you could dare to visit Phu Quy Island, considering that in winter winds blow generally between 25 and over 40 kts, while in summer the average wind speed is 20 kts.
It is known that during winter season sometimes due to bad seas the boats stop working for several days.
Con Dao islands
Con Dao islands are located about 140 kms from Vung Tau. The island can be reached by boat and also by plane from Ho Chi Minh.
During our last visit, we opted to practice kitesurfing on the beach at the end of the  airport runaway.
Though a lot less windy than Phu Quy there's no much to do on  Con Dao island and a 3 days visit should be enough.
VUNG TAU
About our favorite Vung Tau kitespot, Bai Sau beach, located in the eastern part of the city, we have probably said enough in our webpage.
Vung Tau city is only 125 kms from Ho Chi Minh city. The city of Vung Tau is the favorite beach resort of the inhabitants of the biggest metropolis of south Vietnam.
Though less windy than Mui ne, in Vung Tau beach, especially on its last part of it, where the water conditions are much friendlier.
http://kitesurfinglessonsvietnam.com/en/kiteschool-in-vietnam
Add to it the amount of empty space on the beach and also in the water.

Another plus is the possibility to reach two different kitesurfing scenarios, waves and flat water, only separated by few kilometers of distance, which can be done riding a motorbike in low tide without needing to access to the road.
A great flat water kitespot is available at the left end of Bai Sau kite beach