KITESCHOOL IN VIETNAM
In 2012, during a 3 months kite trip  to southeast Asia, almost by accident, we ended up in a place that did not appear in Google searches with the words kitesurfing, wind and Vietnam.
As a consequence of that trip we created our kitesurfing school in Vietnam
The reason of it: during that trip we discovered Vung Tau and his inexplicably well-kept secret
Since that time we visited the kitespot every year and since the last two years our winter kitesurfing school became a reality.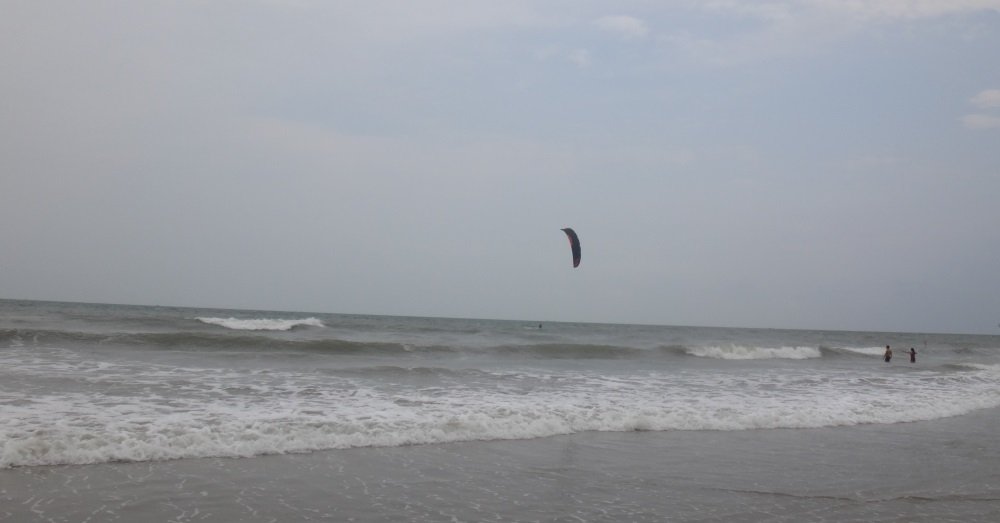 There are other well known kite destinations in Vietnam but so far no one of them gather the different reasons to make us choose Vung Tau as our predilect winter kitesurfing destination.
During Spring and Summer seasons our kiteschool in Vietnam it's closed due to the uncertain wind conditions and the rainy season. Between the months of April to September our kiteschool in Mallorca is fully operative.
Further important information about kitesurfing on Mallorca can be found in the following links:
http://www.kitesurfingmallorca.com/
http://www.mallorcakiteschool.com/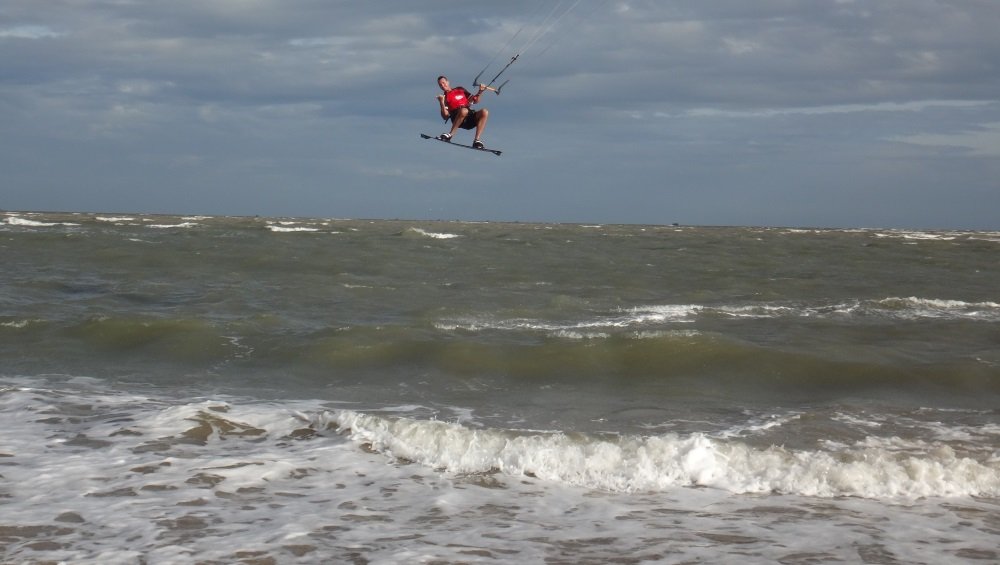 KITESURFING VIETNAM
Between the months of November and March, South Vietnam receives the monsoon winds from the East and South East.
This are constant winds that create the dry season, with little or almost no rain and temperatures between 26 and 34 degrees Celsius.
125 Kms towards the East of the city of Ho Chi Minh lies the city of Vung Tau.  Vung Tau is a kitesurfing paradise
The great beach of Bai Sau offers a perfect combination of waves and flat water at different parts of the beach, which guarantees all kind of kitesurfing possibilities.   Flat water for kite students or  beginner kiters and manoeuvre freaks and also wave riding and perfect ramps for flying high.
This is a normal day in the kitesurfing scene in Vung Tau – Vietnam?
WIND IN VIETNAM – VUNG TAU
Vung Tau has an approximate population of 325,000.  The city is a coastal city with an elegant design in its avenues, offering 2 beaches.
One of them, the biggest one, of 14 km of extension, name's Bai Sau, is a great beach oriented to the winter monsoon winds. Vung Tau is situated in one of the most consistent coastal wind areas of the country.
The expected amount of windy days between 12 and 25 kts in three months is of 80%, that is approximately of 24 days out of 30.
Windguru – Wind in Vung Tau / Vietnam CLICK HERE
OUR KITE BEACH – BAI SAU

Bai Sau  view towards the right, Vung Tau beach – Vietnam

Bai Sau view towards the left, Vung Tau beach – Vietnam
Bai Sau beach is oriented to the South China Sea, receiving nice gentle waves.  Only the first 3 km of the beach are visited by tourism and local bathers, leaving 75 percent of the beach practically deserted without swimmers or other beach users who might be disturbed by the use of kites.
https://www.youtube.com/watch?v=YrubYaTAQ9o&feature=youtu.be

In low tide you can ride a motorbike on the beach until the kiteschool spot
At the left end of the beach there's a river mouth where we will find flat shallow water perfect for kitesurfing lessons. A big empty space free of any obstacles, knee to waist deep where to practice kitesurfing without any danger.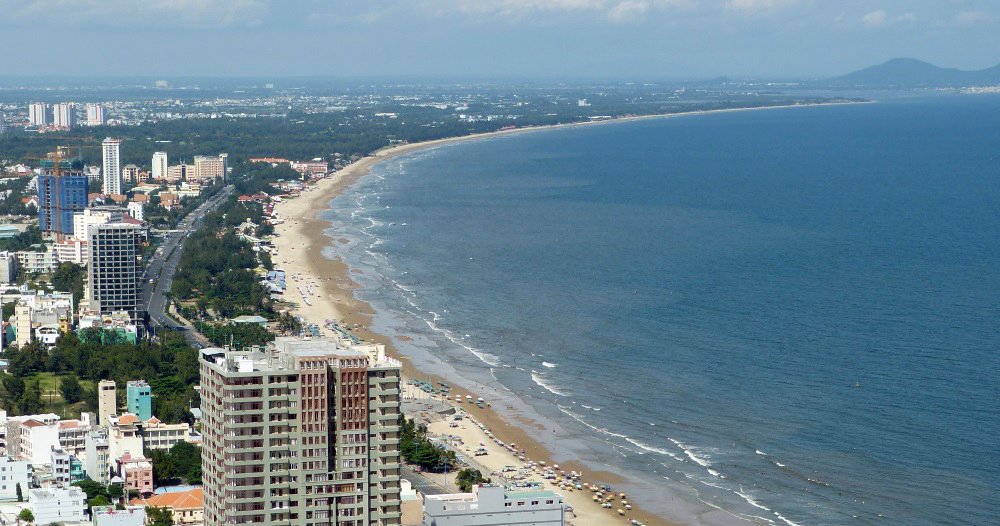 In Vung Tau there is a small but friendly  kiters community  that during weekends is slightly increased by the inhabitants of the city of Ho Chi Minh who take advantage of the days off  to visit Bai Sau, Vung Tau main beach.

The atmosphere is relaxed and it is easy to make friends with both locals and the many expatriates who have settled there.
The city has several shopping centers as well as 2 boulevards that run along the beach, where the neighbors of Vung Tau, along with the visitors enjoy walks on the edge of the sea.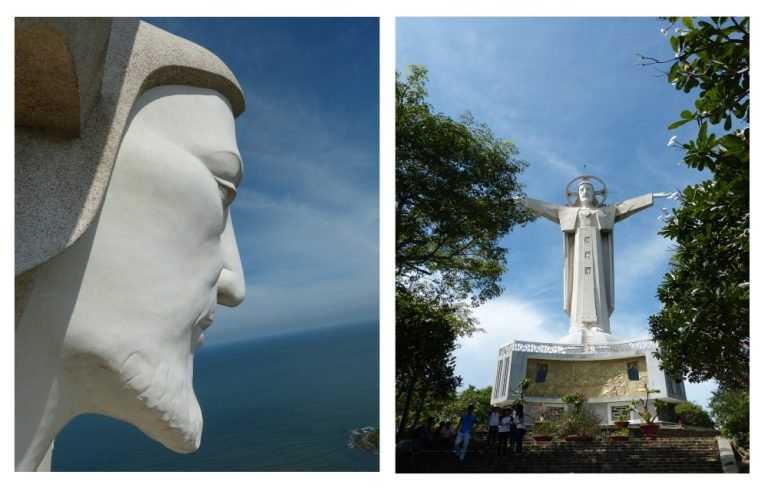 There are 3 hills in the city, all offering authentically panoramic views; One of them offers a theme park of attractions and another a statue of Christ that can be accessed inside by stairs that reach a viewpoint in the arms.
There is a huge offer of accommodation suitable for all budgets, being able to find accommodation between 6-8 euros per day, 15-20 euros and the most luxurious establishments around 100-120 euros per day.

A flight to Vietnam from Europe has a cost from 500 euros to 800 for a round trip.  The trip is of 14 hours duration that generally takes place in two flights of approximately 7 hours of duration each one plus some time on the ground between planes.  Once in Ho Chi Minh you will reach Vung Tau, by bus -6 euros-, hydrofoil boat -12 euros- or by taxi -60 euros-
FOLLOW THE LINK UNDER AND GET MORE INFORMATION
ABOUT OUR KITESCHOOL AND BLOG ENTRIES IN FACEBOOK
visite our Facebook page and see about the last news and our kite reports
kitesurfing lessons vietnam webpage in norwegian language follow the link under this lines:
http://kitesurfinglessonsvietnam.com/nb/hvorfor-velge-vietnam-for-laere-kitsurfing – besøk vår nettside og se om de siste nyhetene og våre kite rapporter
AND FROM MARCH TO SEPTEMBER
KITESURFING COURSES IN MALLORCA-SPAIN
For more important information about both isues, weather and kite spots please check the following links:
Wind and weather in Mallorca
https://mallorcakiteschool.com/en/best-kitespots-and-best-time-to-kite-in-mallorca/
Where to Kitesurf in Mallorca
https://mallorcakiteschool.com/en/blog-kitesurfing/page/7/