Wind and Weather in Vung Tau, Vietnam
In the following lines a small report about the wind and weather at the kitesurfing spot of Vung Tau, in Southern Vietnam, during the months of Sept-Oct and early Nov 2019

September has not been a rainy month in Ba ria – Vung Tau -South Vietnam- at least, not as rainy as it could be expected to be considering the time of the year.
The wind has been, most frequently, from SW direction, with intensity between 6 and 10 knots generally, offering from 3 pm, the possibility of kitesurfing almost daily, but the last week of the month the wind, prematurely switched to NE, so we had some real good kitesurfing sessions.

kitesurfing in Vung Tau in September
The days alternated between clear and sunny to days in which from between 5 to 6 pm, a cloud formation brought rain from SW direction

clear sunny day – kitesurfing scene in September, Vung Tau kite spot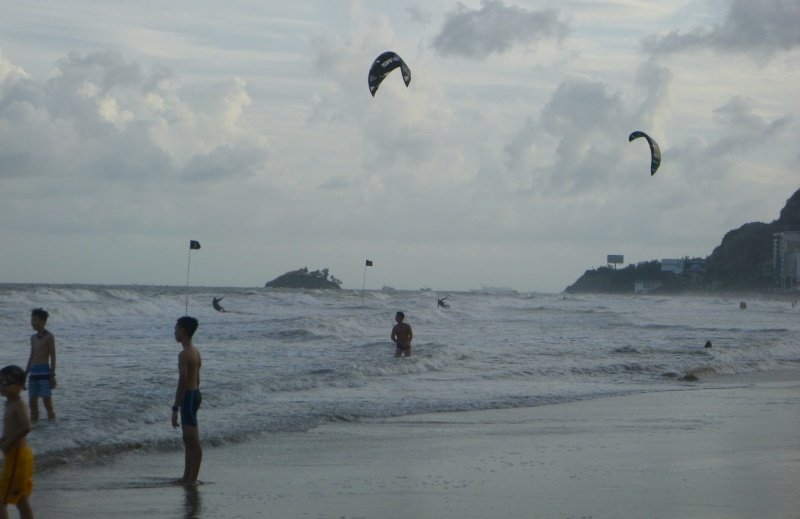 kitesurfing in Vung Tau beach in October
October began with its first three weeks bringing winds of NE direction, sometimes with days of up to 25 knots but generally staying between 12 and 16 knots

second week Oct – kitesurfing in Vung Tau in 20 knots
Good wind conditions, NE Monsoon winds, kitesurfing with 10 mts Flysurfer Soul in Vung Tau kite spot

kitesurfing in waves in Vung Tau kite spot – Bai Sau beach
Suddenly, at the end of the third week of October the wind direction began to change, returning to days with hardly any wind or offshore, from NW direction, with some occasional day of wind from SW direction

windless day in Vung Tau beach – end of October
Creating a situation that had not taken place during, at least, the last ten years, where, because of a sort of train of tropical storms passing over the north of the Philippine Islands, where arriving to central Vietnam, in turn, affecting directly also the southern areas of the northern part of the country.
And at the same time, affecting also, indirectly to the south east shores of Vietnam, interfering with the expected winds of direction NE and creating pockets of instability in which the direction of the winds changed continuously, thus avoiding the arrival of the expected Monsoons of NE.
This situation of the arrival of several tropical storms has caused a stop in the flow of monsoon winds of NE direction, which were the most frequent at this time of the year and being the main cause of winds of variable direction from N to NW and some days of SW,  in the coasts of the provinces of Ninh Thuan, Binh Thuan and Ba Ria – Vung Tau, bringing rain on several occasions coinciding with the last part of the day.
The cause of that change in wind direction
In the following sequence of images it can be seen, day after day, the evolution that a tropical storm has as it gets closer to central Vietnam, and as it dissolves once it reaches the land, being the cause of the winds -and lack of winds- that it produces in every area affected by each new tropical depression
Location and trajectory of typhoon 6 Nakri
– Hydrometeorological Forecast Center of Vietnam
https://laodong.vn/xa-hoi/tin-bao-moi-nhat-tu-dem-nay-bao-so-6-nakri-se-gay-mua-dong-gio-lon-764954.ldo
https://laodong.vn/xa-hoi/tin-bao-moi-nhat-bao-so-6-nakri-tiep-tuc-manh-len-giat-den-cap-12-764440.ldo