Choose well your kiteschool
When you want to learn kitesurfing, there are some very important details that can make the difference between learning effectively or not.
Learn kitesurfing – Kiteschool Vietnam … or wasting time and money and get a wrong idea of what kitesurfing really is. Choose your kiteschool well it is a serious task.  Think well before to chose your kiteschool

Learn kitesurfing – Kiteschool Vietnam

   In the following lines we will try to explain these important details
Pay attention and imagine as yourself as the person who wants to learn kitesurfing.  Consider each of the following tips and select carefully your kitesurfing school
CHOOSE WELL YOUR KITESCHOOL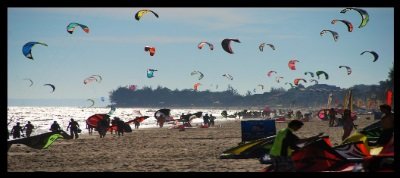 What you do not want when it comes to learn kitesurfing
1.- Small sandy area
2.- Crowded beach with many people
3.- Obstacles downwind on the beach
4.- Very windy beach
5.- Wave breaking on the shore
6.- Rough surface of the sea
7.- Deep water
8.- Other kiters crossing the teaching area
9.- Too fast and reactive kite
10.- Bad kitesurf technique teaching
Learn kitesurfing – Kiteschool Vietnam
The honest true – http://www.sunny-wind.com/de/why-vietnam/ – CLICK HERE
The honest true II – http://forum.oase.com/showthread.php?p=1288252 – CLICK HERE
Kite course in Vung Tau – Learn Kitesurfing with us
Small beach without enough free space vs Beach free from obstacles= evident answer, isn't it?
And where no one can be annoyed or exposed to be hurted is the first step to a successful kitesurfing lessons
It is recommended that the safety distance be of at least one or two lines lenght without people and obstacles where our kite may tangle or injure someone on the beach, including yourself
Very windy beach is not advisable
The stronger the wind, the lesser chances of controlling the kite
Receiving kite lessons over 16 knots of wind can be a difficult task.
The kite becomes very reactive and the chance of making mistakes becomes much bigger.
Waves breaking on the shore are one of the biggest enemies of a kite student
Crossing the shorebreak it is a delicate task. You need to use your kite trajectory set at 45 degrees from the water surface while with your other arm holding the kiteboard
The rough surface of the sea and deep water makes kitesurfing learning progress almost impossible
Other kiters sailing and crossing the teaching area it is an annoyance plus, it is very dangerous. Kites can easily tangletheir lines and the power of one kite can double its dragging power
Windy conditions require the use of smaller kites, smaller kites are too fast and reactive
It is very difficult to control a reactive kite, you will not learn anything
Visite our Facebook page and get informed about the last news
Why create a kiteschool in Vietnam? 
Https://www.facebook.com/KitesurfingLessonsVietnam/CLICK AQUI
Teach kitesurfing – Kiteschool Vietnam
………………………………………………..
Please forgive us for grammatical errors and bad translation.
If you want to participate in our blog, please contact us.