WHY CHOOSE VIETNAM TO LEARN KITESURFING?
The basis of learning kitesurfing depend in great part on the right choice of several important facts.
Why then choose Vietnam to learn kitesurfing?
Simply because Vung Tau – Vietnam gathers all the elements to make of this choice the ideal one and this will undoubtedly provide you with the best ground for success.

kitesurfing in flat water – teaching kitespot Vung Tau
Let's see in the next lines why Vietnam to learn kitesurfing?
In our kitesurfing school in Vung Tau you will find the best wind and water conditions in Vietnam. Just look at the wind maps of Vietnam to find out.
https://www.windy.com/?10.350,107.067,5
This is due to the fact that the location of Vung Tau, further south than Nha Trang, Phan Rang, Phan Thiet or Mui ne, located further north, these other beaches and kitesurf spots miss the benefits of the typical weather situation during the period from October to April, which coincides with the northeast monsoon season.
In other words, at Nha Trang, the wind will be unstable or non-existent, at Phan Rang, the average wind force will be 25 to 35 knots. In the Phan Thiet area, you will have 25 to 30 knots, and the same day in Vung Tau, we will enjoy 12 to 20 knots, or the perfect wind power to learn kitesurfing safely.
1.-  Wind and sea conditions, a flat water kitespot and no waves are fundamental for a productive practice.
Though at certain parts of the beach if you wish, you can find the best waves of Vietnam, for advanced kiters who will enjoy wave riding.

12 knots and 15 mts kite for wave riding on Vung Tau kite wavespot

riding towards the breaking mid size waves – Vietnam best wave kitespot
2.-  The type of equipment which we use on our kite lessons, it is adapted to the conditions of our kitespot , and to the wind force in which take place our practices.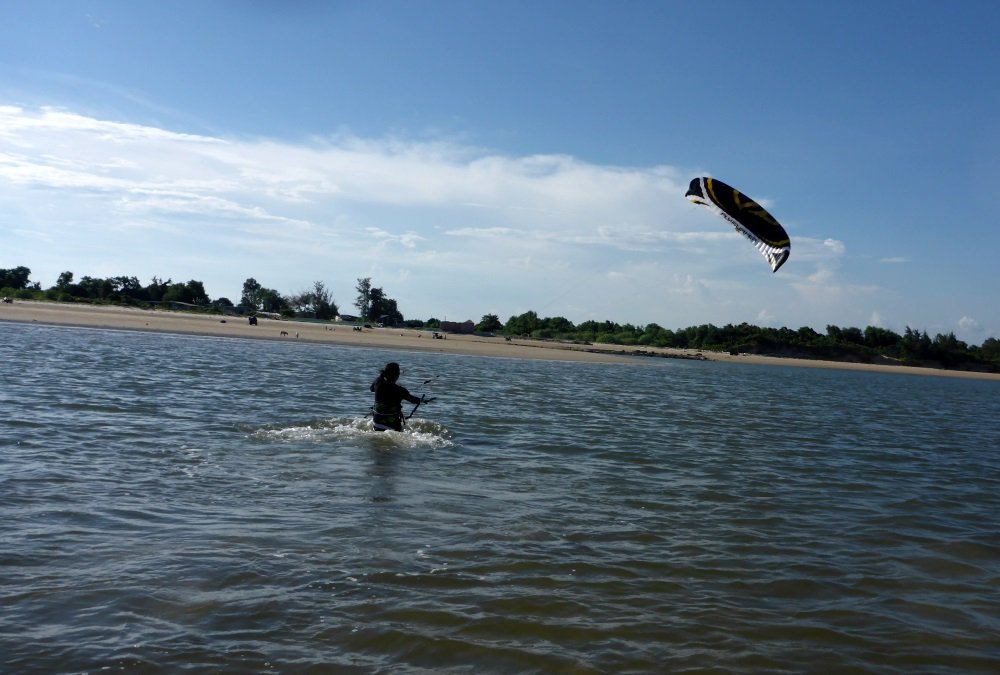 This special type of  kites are adapted to the best improvement in the learning curve and the progression level of our kite students, from absolute beginners to intermediate kiters wanting to improve their skills.
Our kite equipment in  www.kitesurfinglessonsvietnam.com   CLICK HERE
3.-  The last  part of our successful  kitesurfing lessons is the method in which this lessons are based.
LEARNING STAGES DURING OUR KITE COURSE
Our innovative teaching method has the guarantee of thousands of kite students which have received our kite lessons. 
Since our first kite school back in 1998, year in which was founded our first kite school, and until nowadays, during autumn and winter in Vung Tau -Vietnam and through spring and summer seasons in our sister kite school in Mallorca SPAIN.
You can check also our websites:
https://kitesurfingmallorca.com/
https://mallorcakiteschool.com/
OUR VIETNAM KITE SCHOOL
In our kiteschool www.kitesurfinglessonsvietnam.com, the full course of 9 hours, can be performed generally in 2 or 3 days of kite practices.
The price of the full kite course it's only 300 euros.
The price of one day kite lessons, 3 hours duration it is 120 euros.
At the conclusion of your kite course, you will be able to get up on the kiteboard, do your first kitesurfing  rides and navigate the first hundreds of meters in both directions.
What is the reason to learn kitesurfing in Vietnam?
Our kite-spot in southern Vietnam combines ideal conditions for practice and learning kitesurfing.   A mild temperature of 26 to 34 degrees Celsius on the water and in the air.   A lycra or a light neoprene to protect you from the sun rays, it is necessary.
Our beach, is 80 meters wide and 14 kilometers long, offering plenty free space and the perfect combination of sea and wind conditions to learn kitesurfing.
OUR KITESPOT FOR KITE LESSONS
Flat water, without waves, chop or shorebreak and a large sand bank between 40 centimeters and waist deep, facilitates your kitesurfing practices and guarantees your a safe learning in which there is no risk of accidents.

Learning, riding and practicing kitesurfing on 40 cms deep water
for hundreds of meters – the safest possible option
For more advanced kiters, a part of the beach offers nice waves in which can be practiced wave riding and kite jumps.
WIND IN VIETNAM DURING WINTER SEASON
In our kite city, Vung Tau, we receive monsoon winds from the east and southeast direction which blow constantly between 12 and 16 knots in the morning and between 18 and 25 knots until  sunset.
IS VIETNAM THE RIGHT CHOICE TO LEARN KITESURFING?
Our kitespot in South Vietnam brings together every reason for this.
Vung Tau on its Bai Sau beach has the ideal wind and sea conditions for the practice and learning of kitesurfing.
People in Vung Tau are friendly and always willing to help, they smile and greet you as a general rule, Vietnam is a country where the cost of life makes everything you pay for, to say the less, quite cheap
Do all of it seems to be enough reasons to visite the best kitesurfing spot of Asia?
If you are planning a winter getaway and want to learn kitesurfing or improve your kitesurfing level, think about visiting Vung Tau. You'll be amazed!  We wait for you!
WHY VIETNAM TO LEARN KITESURFING?