OUR KITESURFING LESSONS
Our kitesurfing kiteschool it's operative all year round. being between the months of October to end of March coinciding with the dry wind season, the best period for the best wind direction in Vietnam.
KITESURFING LESSONS
Our kite courses program it's focused on providing our kite students with the knowledge that will make them a prepared and efficient kitesurfer.
Our goal is to teach and enjoy the sport of kitesurfing in the safest possible way, during your stay in Vung Tau – Vietnam and also once they will return back to their country.
Our kitesurfing lessons take place with the products www.flysurfer.de
Maximum guarantee of safety and success
MORE DETAILED INFORMATION ABOUT OUR KITE LESSONS
Your kitesurfing learning includes a brief important part of theory
with detailed information for the correct understanding of the efficient use of the kite. This is the part that will provide you with the tools to transmit your commands to the kite through the kite bar.
Right after this theory part we start with our practices directly on the beach first and into the water next -approximately 80 per cent of the 3 hours lesson-
KITE LESSONS STEP BY STEP
Gradually you'll be gaining control of the kite, correcting handling mistakes while going through different sizes.
In a following state we begin with the practice of bodydrag where the kite drags us while we control it floating over the water while being dragged forward.
In a next step we proceed to the positioning on the kitesurfing board and we will begin with the first waterstart and the first navigation rides.  This process last generally 9 hours.
During the last stage of our kite course we start navigating in both directions and learning our first kitesurfing upwind rides.
DETAILED PROGRESSION STEPS
1.-  communication -the kite receive your commands efficiently-
2.- power -we find how to produce power on our kite steering-
3.- transfer -we send the needed amount of  power from the kite to the board-
4.- first waterstarts -we stand up on the board and ride the first meters-
5.- ride progression -we kitesurfing in both directions-
A view of our new flat water kitespot for your first waterstart
BASICS OF LEARNING KITESURFING
THROUGH OUR KITE COURSES
1. Wind and meteorology
2. How does the kite work
3. How to prepare the kite
4. How to start and land the kite
5. Technique on the kite bar control
6. Bodydrag
7. Relaunch the kite from the water
8. Waterstart
9. First kite rides and self-rescue
10. Learn riding against wind
KITE TRIPS AND KITE KLINICS
We have also advanced kite lessons in which you will improve your riding skills and jumping technique.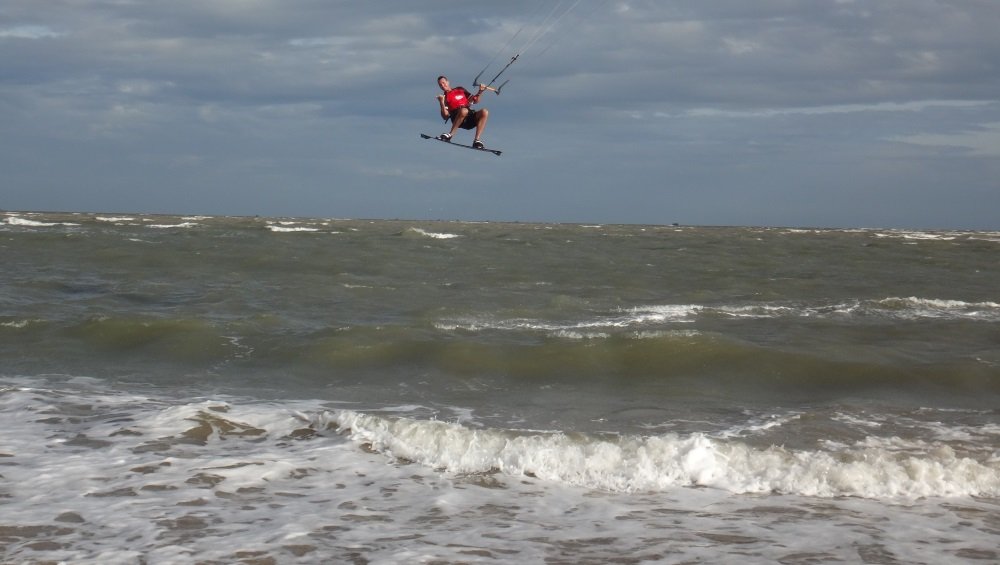 PRICE OF LESSONS
The price of the lessons is 120 euros for one day / 3 hours
Enjoy our special 3 days discount, only 300 euros for the full course of 9 hours.
OUR KITESURFING LESSONS